What does a building manager do for your off plan property?
July 20, 2021
First time owning a strata title property? Or the latest in a string of investment properties? Either way, you already know that strata is quite different from other forms of ownership.
The good news is that strata properties come with a team of professionals. A building manager (or Property Manager) are one of the MVPs. They work hand in hand with your strata manager to help protect and maintain your strata title property.
Why is maintenance so important? It helps to:
Maintain and increase the value of your property
Avoid costly repairs down the track
Attract great tenants
Offer a pleasant and safe living environment
Case study: Sandy
Sandy is a first time home owner and lives alone in her new strata title apartment. Her job as a fashion consultant means that she often gets home from work after dark. The building manager in her building checks that pathways and corridors are well lit, fixes trip hazards and keeps the building in good condition. Knowing that someone keeps an eye on the building and checks for forced entry helps her feel secure. He's even helped her bring in her shopping!
Taking a holistic approach to maintenance
A building manager works on-site so they get to know your building better than anyone else. That allows them to take a wholistic view of the maintenance required.
Case study: Miriam and John
With three teenage children and two full-time jobs, life is very busy for investors Miriam and John. They don't have time to deal with trades and other issues, so at the last executive committee meeting they proposed hiring a facilities manager.
The building manager created a schedule of works and presented it to the owners' corporation and strata manager. This has allowed Miriam and John to plan their budget and enjoy peace of mind that the development is being well cared for.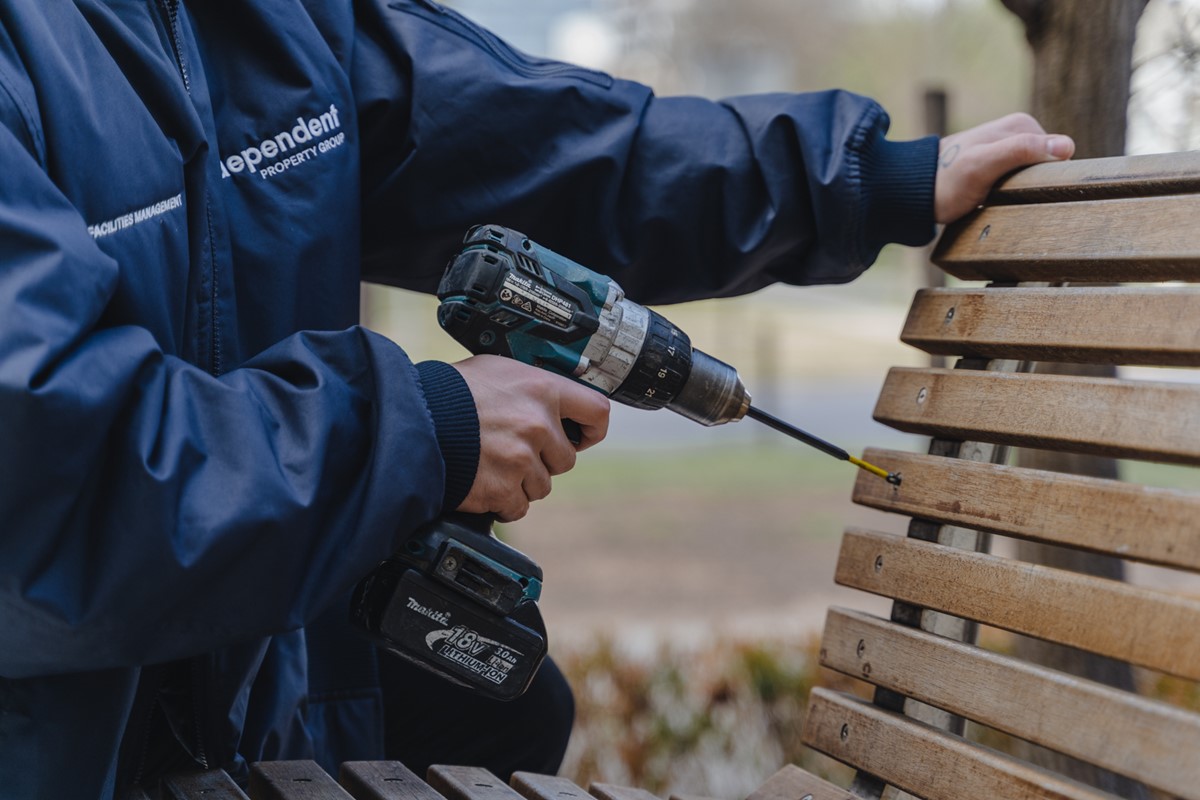 Making repairs and liaising with trades


With a good building manager, minor repairs can be dealt with on the spot. 
"If it doesn't require a specialist, we'll take care of it as part of our normal duties," Tony explains.
Things like cracked or lifted pavers, minor patching jobs on walls, or a leaking tap in the common area can be fixed promptly. No more wasting extra time and money on calling out trades—or, worse, the fault being left to sit there and deteriorate.
Where repairs do need a trade, building manager can take the load. They will:
Organise quotes or deal directly with preferred suppliers
Be there to give the tradesperson access so that owners don't have to take time off work
Explain the job and assess whether the proposed repair is appropriate
Ensuring compliance


Building managers ensure that trades are complying with safe work practices. These might include:
Compliant safety equipment
Proper licensing
Correctly accessing high-risk areas.
If the trade isn't compliant and an accident occurs, liability insurance may not pay out, so the stakes are high.
Trades aren't the only ones who need to comply with legislation. There are several codes and standards that apply to developments, which can be hard for an owner's corporation to keep up with. Non-compliance could render your building insurance null and void.
The building managers check:
The doors to the fire isolated stairwell are kept closed
Fire extinguishers are tagged and operational
Pathways are clear of debris
Emergency phones work
Acting as a consultant


One way to think of a building or facility manager is as an interpreter. Does a 'second fix' sound like something to be scored down a dark alley? Not sure what's flush and what's flashing? Having a specialist on board can help.
A building manager can explain complex regulations and standards. When repairs are needed, they can also help you understand what's required and why it's important.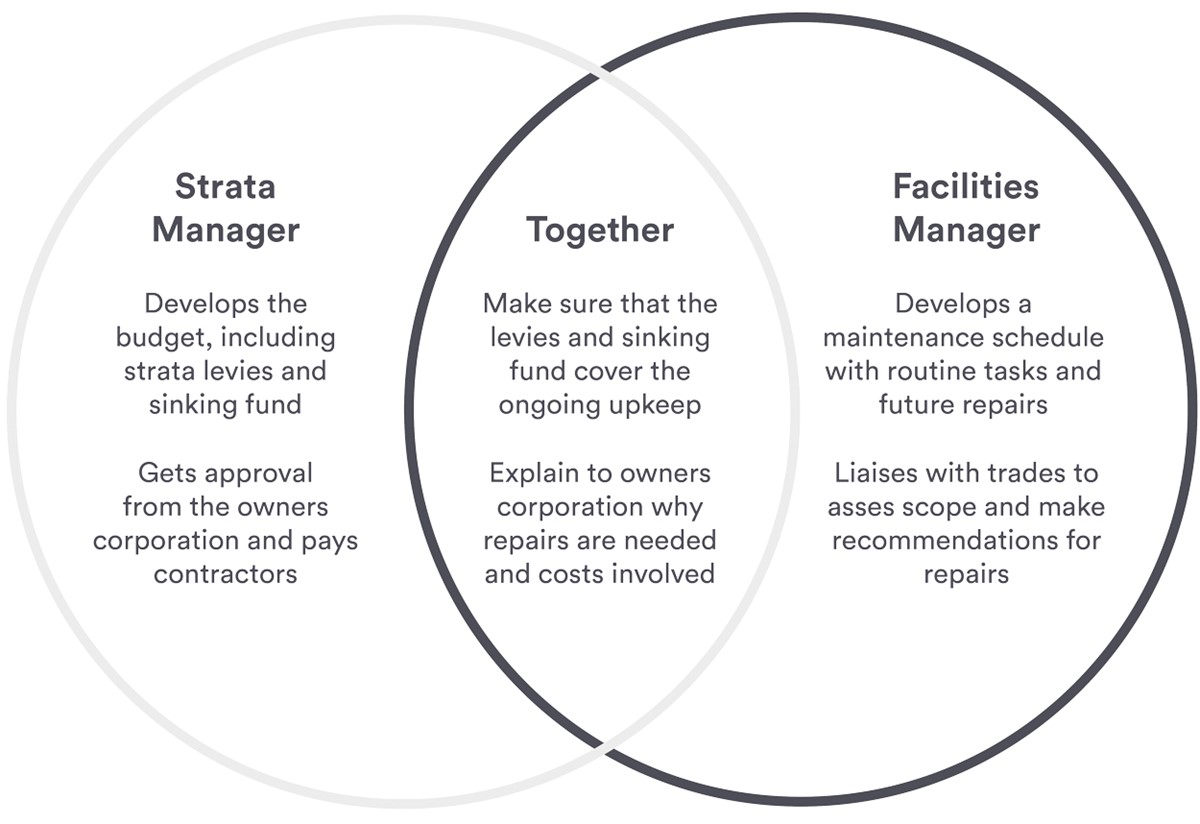 The bottom line: what's in it for you
Your property is an asset, whether it pays you a rental income or you live in it while building equity for the future. By making sure that it is well maintained, you will:
Help it increase in value so you can leverage the equity when you come to relocating or buying an investment property
Attract tenants who care about a well-maintained property and be motivated to care for it themselves
Enjoy living somewhere safe and attractive that you can be proud of
Save on upkeep by attending to issues before they worsen and become expensive to fix.