Is short-stay worth it? How to get more profit from your property.
February 08, 2022
Did you have hopes of building wealth through property investment only to find that the rent barely covers your mortgage repayments, rates, and out-of-pocket costs? If you don't have time to wait for the long-term gains of property investment, we may have the solution.
By listing your property on short stay booking platforms including Airbnb, you could earn 30% higher returns than a traditional lease arrangement. Even after management fees.
Is short stay worth it? For most people, yes. How much you could earn depends on your specific property. That's why it's a good idea to get an appraisal to find out whether your property is suitable and what the nightly rate could be.
Is short-stay profitable for hosts?
More and more people are discovering how profitable short stay can be. In fact, short stay earnings in Canberra are expected to increase 20% over the coming months as demand continues to grow.
Research by Guested suggests that you could achieve an average of 30% higher returns over long stay rental. Some short stay properties earn double the amount standard leasing would return.
How much profit you could make depends on:
Location
Size of property
Presentation
Special features, for example a pool or gym
Whether you're planning to make the property available year-round or use it for yourself
How much money can I make with short stay?
That's the question Rowan asked when he came to see Guested. Rowan owns a new one bedroom apartment in central Canberra, in a complex with a swimming pool, gym and sauna.
Presentation, location, and amenities mean Rowan's apartment received a five-star rating on our suitability assessment. He could earn up to $180 per night for the property.
Of course, a short stay rental won't be booked out 365 days per year, so it's worth looking at the occupancy rate for a fairer comparison.
| | | |
| --- | --- | --- |
| Central One Bedroom Apartment Canberra | Long term | Short term |
| Gross income per week | $450 | $1260 ($180 x 7) |
| Standard occupancy rate | 99% | 65% |
| Income multiplied by occupancy rate | $446 | $995 |
| Management fee | 10% | 22% |
| Net income per week | $401.40 | $796 |
Airbnb vs long term rental
| | |
| --- | --- |
| SHORT TERM RENTAL | LONG STAY RENTAL |
| Responsive pricing. Short term rates are adaptable supply and demand each season to get maximum nightly rate for your property. | Set income. If you prefer to know exactly what's coming in, you might prefer to stick with standard leasing where you'll charge the same rent every week. |
| Higher returns. By listing your property on Airbnb you can make 30% more, or even higher, over standard leasing. | Greater security. With Canberra vacancy rates at an all-time low, you're almost guaranteed to find a tenant. |
| Meet people from all over the world. If you choose to be hands-on with your property, it can be a rewarding hobby. You'll meet new people, learn new things as the industry changes and stay active in your free time. | Hands off. Regular leases mean less work. Once your tenant is in and the paperwork's done, the only ongoing commitments are the quarterly inspection and occasional maintenance requests. |
| Flexible use. Take advantage of the quiet season to block out time for your own holiday. You'll save money on accommodation and enjoy a home away from home. | No personal use. Tenants have the right to 'quiet enjoyment' of the property. You can't come in without giving proper notice and getting permission, and you certainly can't demand that they leave for a few weeks so you can have a summer holiday. |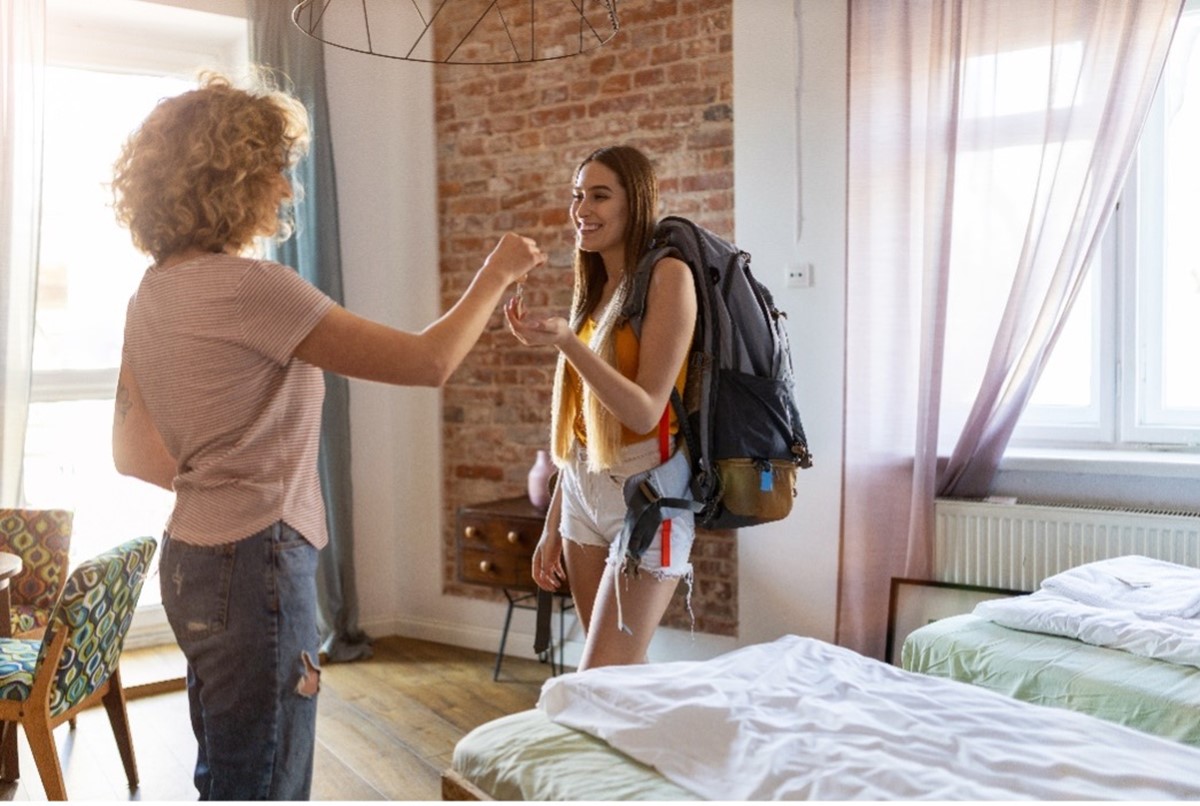 4 tips for making money with short stay
1.Provide an impeccable experience
Happy guests mean higher returns through five-star reviews and word-of-mouth marketing. Make your guests feel pampered and they'll be back for more. Word of mouth is the most powerful form of advertising there is, so it's vital to get this one right. Invest in those extra touches like good quality linens and toiletries and be vigilant about keeping the place spotless and beautifully styled.
2. Get the listing price right
Put too high a nightly rate on your property and you'll turn guests off. Ask for too little and you're leaving money on the table. That's why it's important to know the market.
Don't know where to start? A professional property management company that specialises in short stay rental can help. They know your local market inside out and can advise you on the right price to set your listing at.
3. Create a compelling listing
You might know your property is special. But does anyone else? A well-written listing with professional photography is vital to show it at its best. Remember, your guests can't inspect the property in person before booking. The listing should give them all the information they need.
4. Increase your short stay earnings with professional short stay management.
Unless you have extensive experience in short stay hosting, consider using a professional short stay management company like Guested. Guested will use their expert market knowledge to help you set a rate, manage client communication and accounts plus ensure that your property is kept in spotless condition for each new guest. By helping you showcase your property at its best with styling packages and optimisation consultations, we can help you get a higher nightly rate so you can get more profit right from the start.
Want to make 30% higher returns from your investment property? Get in touch with our short-stay partners Guested, to find out if your property is suitable.
Thinking of buying off the plan?
Sign up to our VIP mailing list for info on off-plan properties before they hit the market and our top buying off-plan tips.