How to research property prices online
October 31, 2020
Found a home you love? Getting ready to put in an offer? Have you done the research to work out how much it's really worth?
You'll read a lot of advice about 'doing your due diligence' before making an offer. We've probably written some of it ourselves. But, well, how do you actually do that?
There's a wealth of information out there if you know where to look. But most people don't. That's why we've broken it down into actionable steps for you. If you need extra guidance, click on our helpful video, which will show you the process step by step.
As our example, we'll look at townhouses in Latham with three bedrooms and two bathrooms. You, of course, can choose whatever property makes the most sense for your needs.
Step One: Research market trends
Why?
In a rising market, sellers have a lot of power. They know that prices are going up, so if they turn down your offer they'll probably get another one. As a buyer, you have to consider whether low-balling is wise in this environment.
On the other hand, a softening property market gives buyers more leeway. Sellers are naturally more anxious to make their sale and may be willing to accept a lower price than asking.
Having said that, you shouldn't be put off from buying in a rising market. In fact, it can be a very good thing. It means that your new property will benefit from the added value right away, and you can start building equity.
The point of the knowledge is to help you frame a smart offer, not walk away.
How?
1. Look at how many days properties are staying on the market. Longer periods of time indicate a flattening market. You can do this by going to SQM Research.
SQM offers a lot of free information, including this graph, which shows you that the average days on market is rising, but only very slightly. The below video shows how to access some of the reports you'll need.
2. Another indicator is weekly asking property prices. Are they stable, or going up or down? This is another question for SQM Research. You'll find the answer by clicking on Weekly Asking Prices which shows you that prices in that postcode have been slowly and steadily rising for three bedroom houses.

(Note: in areas with prestige properties, this is a less accurate indicator. That's because it only takes one multi-million dollar sale to throw out the median. You're probably not buying your first home in Grifftih, but if you are, it's something to bear in mind.)
3. Finally, look at supply and demand. If demand outstrips supply, prices go up. If demand is weaker, so are prices.
You can look at SQM to see that the number of properties for sale has stayed very stable for almost a decade. This graph will also show you that the vast majority of properties stay on the market for under 30 days, indicating strong demand.
Step Two: Research similar properties
Why?
If you're going to make a good offer, you need to know how much other properties go for. That's going to take more investigation than simply looking at the asking price. Knowing what similar properties have sold for will help you target the right real estate for your budget. It will stop you overpaying when you don't have to. And it will help you go into those nerve wracking 'price by negotiation' conversations with confidence.
How?
1. Look at comparable properties. That means properties which are:
The same type of property (e.g., house, townhouse, apartment)
The same number of bedrooms and bathrooms
The same living space and land size (approximately)
In the same suburb (the closer the better, as many suburbs have a more desirable end)
In a similar condition (if the one you're looking at has a new kitchen and bathroom, look for others which have also been renovated)
If you're buying off plan, look for developments that have been recently completed and have similar amenities as the one you have your eye on (e.g. pool or gym).
Don't look at properties for sale. That just tells you what the seller or agent is hoping to get for it. What you want is sold price - that's what they actually got.
2. Go to the SoldPrice website and enter your suburb.
Set the search filter criteria. As discussed above, we've gone with three bedroom townhouses.
Add the results to a table so you can refer to them easily. It might look like this: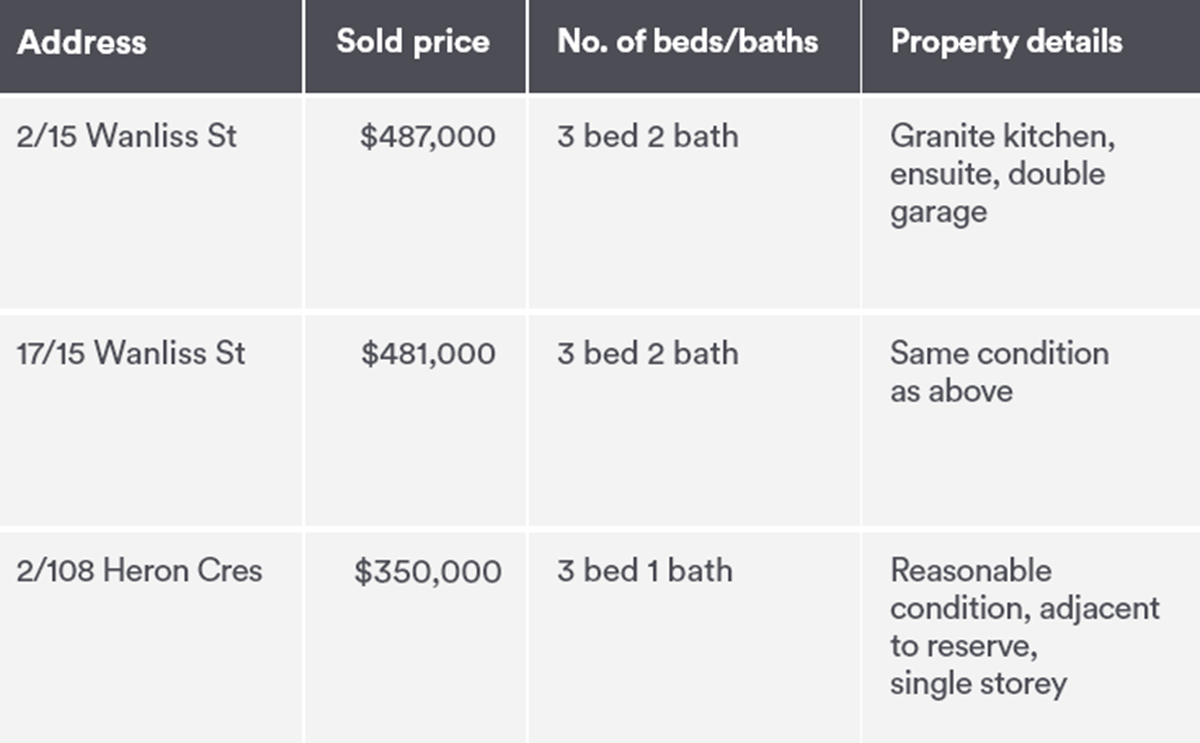 The more properties you can find, the better. When you find a home you want to buy, you can quickly look through your list to see which properties are the most similar. That will give you a better idea of the price.
3. If there's a particular property you have for eye on, you can also go to our appraisal page and type in the address. This will give you a price estimate and when it was last sold.
With all this knowledge under your belt, you'll be negotiating with the best of them. Happy haggling!
Get a FREE buyer's consultation
Ready to buy? Not sure? A chat with one of our agents can help you determine if you can buy your first property sooner rather than later.
> Discover how to prepare to buy
> Learn how to get into the market
> Find out if you're ready to buy now