How to go from renter to homeowner in 3 easy steps
July 02, 2020
1. Don't let the 10-20% stop you, you may not need it…
There are a number of ways you can get into the property market without saving that 10-20% upfront. If you're open to the various options on offer you could get in faster than you think.
5% is also an option
A surprising number of young people assume the deposit is up to 20% when the average minimum deposit you need to have available is only 5%.  On a $400,000 property that means a deposit of $20,000 not $80,000. Despite the often quoted "you need 20%", the need for just a 5% deposit has been the case for the past 30 years. There are many financially secure people who would not be in the position they are now if they didn't back themselves with 5% deposit years ago. 
Buy off plan
When it comes to purchasing in a development, time is on your side. You pay an initial deposit, in some cases as little as $1000, but then you don't have to pay the remainder of the purchase price until the development is completed. Depending on the development, construction could take anywhere from 6 months to 4 years to complete, giving you extra time to save, plan and get your finances sorted.
Not only does the time allow you save, but it also allows for your property to grow in value. In a balanced market, you'd typically expect prices to trend upwards during an 18 month to 3 year construction cycle, so you could find that by the time your property is completed, it will be worth more than you are paying for it.
It's important to be aware though, that markets are cyclical, and while property values have steadily increased over the long term, with average property prices doubling every 10 or so years, there are still short term fluctuations where the market goes up and the market goes down.
Know what you're entitled to.
Government Incentives are designed to allow easier and faster access to the property market for first home buyers. If eligible, they can be used in conjunction with each other.
The First Home Loan Deposit Scheme
The new government scheme for first time buyers is the First Home Loan Deposit Scheme. This incentive allows approved applicants to take out a mortgage with just a 5% deposit. If you've saved at least 5% of the value of the property you're purchasing, the government will 'front' the rest which means you don't have to save the full 20% deposit and you'll also avoid paying lenders mortgage insurance.
This incentive is capped at only 10,000 eligible home buyers per year.
The First HomeBuilder Grant
Another incentive to help buyers get into the market is the HomeBuilder grant. A time limited, tax-free program that will provide eligible owner-occupiers, including first home buyers with a $25,000 grant to build a new home or substantially renovate an existing home. This includes all types of dwellings; house, apartment, house and land package and off-plan.
HomeBuilder is time-limited and available for building contracts signed between 4 June 2020 and 31 December 2020 and where construction or renovation commences within three months of the contract date.
Stamp Duty Concessions
As a first home buyer in the ACT, you're not required to pay stamp duty on new and existing properties. To be eligible for this concession, your household income needs to be less than $160,000.
Use a guarantor
You've probably heard of the term, but a guarantor is someone who provides a guarantee to the lender on behalf of a third party: usually an adult child or close family member. The guarantee works by using all or part of the equity in the guarantor's own property as security for the loan.
This allows the borrower to borrow up to the entire cost of the property - up to 105% in order to cover purchasing costs - without a deposit.  It can also be useful for borrowers who do have a deposit, but less than the 20% required to avoid Lenders Mortgage Insurance. As the guarantor property provides security for the lender, LMI is not required.
You can read more about the pros and cons of using a guarantor with our FAQ.
2.    Don't wait for the money to kick start the journey
A journey doesn't start with the destination, purchasing your first property doesn't need to start with the deposit.
In fact, it needs to start well before you have the money. What type of properties can you look at purchasing? What is your borrowing and repayment capacity? What does 10% or 20% actually look like for your situation? Without some understanding of what you need to do, how will you get there?
Starting the conversations with the right people now could get you into the market faster.
Originally from Melbourne, Andrew and Rose had toyed with the idea of purchasing down there, with the intention of moving straight into their own place when they eventually returned. They decided to contact a mortgage broker.

When asked what sort of price range they had been looking in, neither Rose or Andrew had any meaningful concept of what they could afford. So, their broker got to doing the sums.
"From the paperwork we'd already completed and knowing our monthly living expenses, it was easy for them to calculate our borrowing capacity and repayment capability."

Andrew and Rose were then told they could make an offer on any house up to $500,000 with no qualms whatsoever. This was a huge revelation for them both.
And that was it.
"We had seriously thought we were years away from buying a home. It was a dream for another time and would have stayed a dream if we hadn't made that first, free, baby step towards home ownership – visiting a mortgage broker. Now the dream is a plan. Watch this space"
3.    Don't think about the dream home…not just yet
Just as your first car wasn't your dream car, your first home doesn't need to be either. Rather than focusing on the DREAM home, focus on the FIRST home.
Remember, the goal is to get into the market, by shifting your perspective on the type of property you purchase as your first, you'll be able to reach your goal faster which will then set you up to get you closer to that dream home in the future.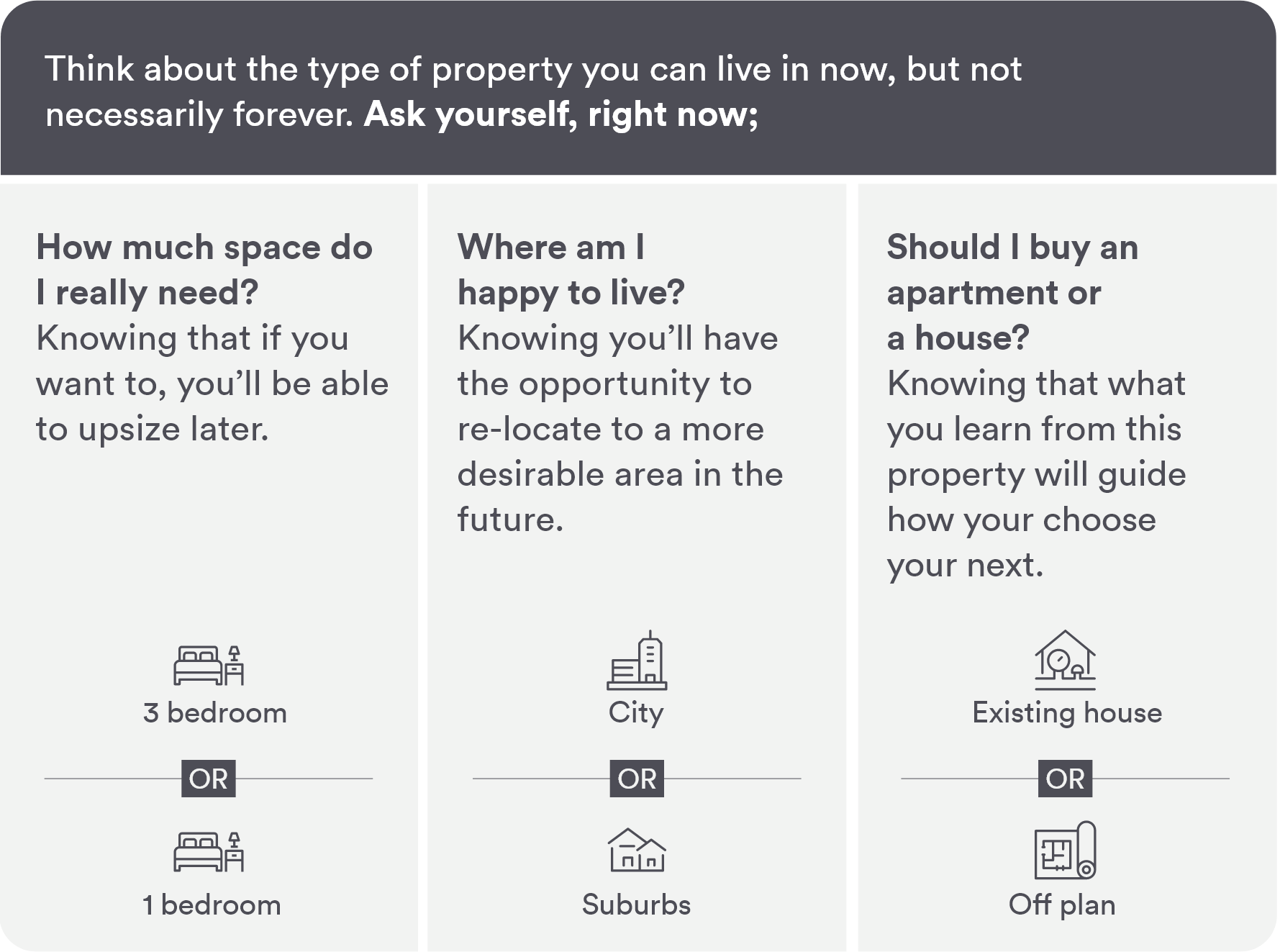 Your answers to these questions may give you a more realistic savings goal while also having a life! It may determine whether you buy something new or something that's already been lived in. It may even suggest that you use the property as an investment rather than something to live-in.
The first step to home ownership is chatting to a mortgage broker like Clarity Financial. If you're wondering what perfect first homes are out there, check out what's available off the plan.
*Independent is not a financial advisor. The information contained is for general information purposes only. It is not intended as legal, financial or investment advice and should not be construed or relied on as such. The information has been prepared without taking into account your personal objectives, financial situation or needs. Before making any commitment of a legal or financial nature you should consider the appropriateness of the information having regard to your circumstances and needs and seek advice from a legal practitioner or financial or investment adviser.
Thinking of buying off the plan?
Sign up to our VIP mailing list for info on off-plan properties before they hit the market and our top buying off-plan tips.