Renvesting. All you need to know.
Ready to get into the property market? Not in a position to buy your dream home? 

Consider rentvesting.

Watching the property market boom, hoping for the perfect time to get your foot in the door?
Many feel the dream of owning a home may never happen for them. But this could just be that they don't have all of the information or know of some of the more innovative ways to get into the market.
Enter the concept of rentvesting. Not sure what rentvesting is or how it could work for you? Our experts have weighed in on the idea of purchasing a property for the benefit of owning a home, yet not actually occupying it. We know what you are thinking, how could owning my own home while still renting get me ahead?
Consider this - You have your heart & lifestyle set on living in a charming cottage in Ainslie, or in a townhouse that affords you the space to live comfortably. With record house prices and many suburbs tightly held, you could be considering giving up on this dream to purchase somewhere that doesn't quite suit your living situation.
What if you were to flip the traditional idea of homeownership and purchase the property you can afford now as an investment while renting your dream property in the ideal location?
With rental vacancy rates sitting at a record 0.5% in Canberra, there really has never been a better time to get into the investment market!
As someone who has delved into the world of rentvesting, Natalie Runko, Marketing Manager recommends the strategy from both a lifestyle and financial perspective "A few years ago I was moving to Melbourne for work, I had a deposit saved but decided the benefits of purchasing in the stronger Canberra market outweighed looking to purchase in Melbourne. I purchased a one-bedroom apartment in Braddon for just over $300,000 as an investment, and then rented with a friend in Prahran near the Melbourne CBD for $430 per week with a friend." Nat says.
The benefit of purchasing an off-plan property to start her homeownership journey didn't lie just in the affordability factor for Nat.
Wayne Harriden, Director of Project Marketing suggests why new apartments close to town centres are proving attractive for the concept.
"The benefit of an off-plan property isn't just that they are more affordable, they now have a lot of amenities including a gym and pool, which is an attractive addition in a rental listing." He says.
Combined with the included amenity, newer properties prove attractive investments as they traditionally do not require major or costly maintenance, particularly in the first few years.
"Its a smart way to get into the market, we have seen many investors drawn to the off-plan market for both long and short-term rental options." Wayne notes. And whilst there are pros and cons to any investment decision, for those looking to get started rentvesting appears to provide a great option.
While it may not fall into the traditional idea of homeownership, exploring the idea of rentvesting could open the opportunity to build a property portfolio, without having to compromise on your current lifestyle ideals. 
Check out these projects to get started with rentvesting now.
Woden Green, Phillip
Apartment Living Redefined.

1, 2 and 3 bedroom apartments available now in the heart of Woden Town Centre, Canberra.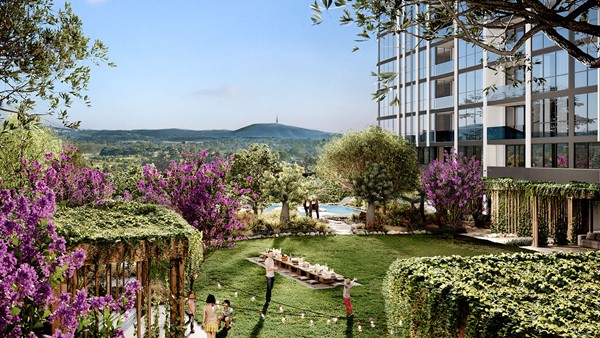 W2, Woden
Life, Multiplied.

Final 2 and 3 bedroom apartments selling now!
Can't find a property that suits you?
Sign up for our VIP mailing list
Enter your details and be the first to receive information on brand new off-plan properties, hot tips on buying off-plan, and VIP access to property viewings and offers.
Want to learn more about buying off the plan?
Check out our 7 part video series.
We spoke to our team of projects specialists to get their unique insights into all things buying off plan. From renders to display suites, right through to the pointy end of putting down your initial deposit - we've got you covered.