Want to access up to
$25,000 to list your property?
Sell your home at its fullest potential with access to up to $25,000 in marketing, styling, and trade costs.
This limited-time offer of zero upfront fee is available now.
First impressions can make all the difference. Beautifully presented properties consistently achieve higher sale prices and stronger buyer interest. But getting your property into pristine condition can cost money you may not have.
Help your property put its best foot forward. List your property with us by 28th February 2022, and you can access up to $25,000 in trades, marketing and styling. Give your home those little touches it needs to stand out in the market, with nothing to pay for up to 90 days.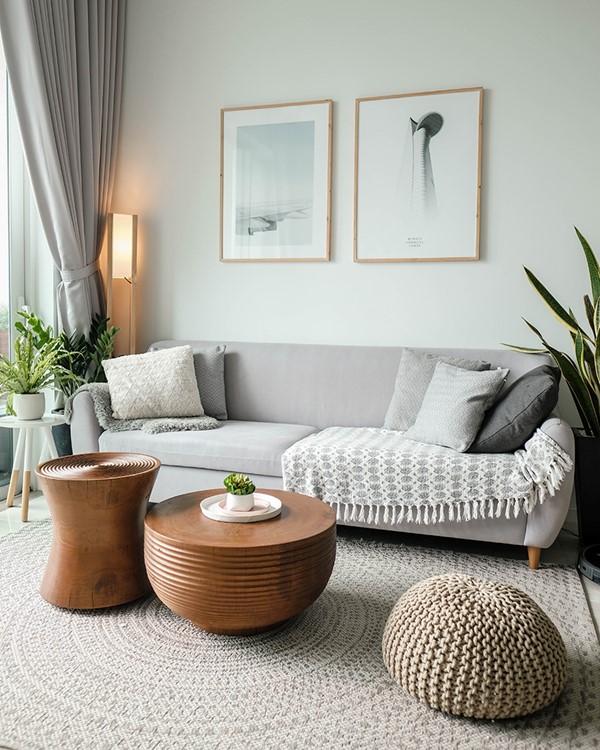 Case Studies
It can be easy to overlook the benefits of styling and a fresh coat of paint when it comes to listing your property. Upfront costs can be an obstacle for anyone in any situation, but the results of that investment often speak for themselves.
While there are a lot of factors that go into a sale price, the power of a well styled first impression can make all the difference. Let's take a dive into a few cases of similar/near identical properties with very different sale outcomes thanks to some maintenance and the sharp eye of a stylist.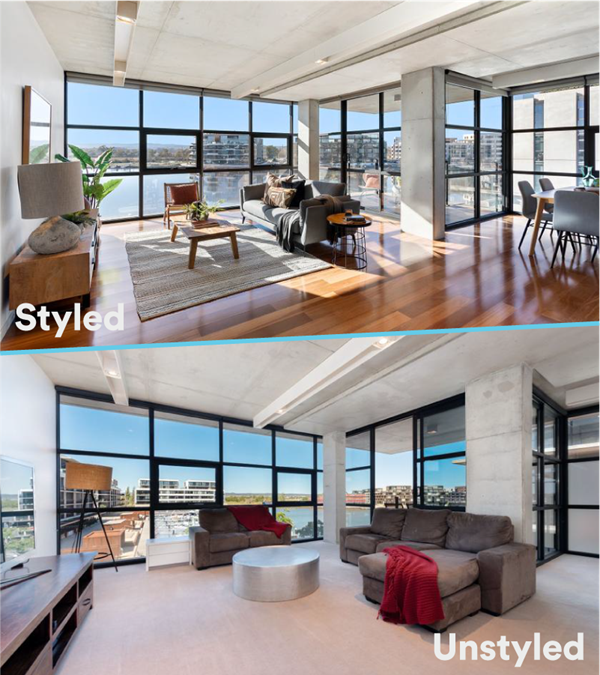 Eastlake Parade, Kingston
▸ Same floor plan, same views
▸ Sold within three months of each other
▸ $255,000 price difference
These two properties sold within a 3 month period. They have the same floor plan, are on the same level, and in near-identical neighbouring buildings. And yet 7/35 Eastlake Parade went for a staggering $255,000 more.
The difference: maintenance and styling. The owners of 7/35 Eastlake waited until their tenant vacated to revitalise their property with freshly painted walls, small repairs and touch up maintenance. Next, they brought in the stylist, who used furniture and decorations to separate living and dining zones and showcase the view.
"The imagery is just so much better," says selling agent Grahame O'Brien. "Buyers fell in love with the lifestyle."
Burrumarra Avenue, Ngunnawal
▸ Identical townhouses
▸ Sold on the same day
▸ Professional styling yields $28,000 profit
Two identical townhouses sold on the same day. One, presented neatly with the owner's furniture, sold for $450,000. The other, with the help of a stylist, fetched $478,000. Coordinated furniture and soft furnishings softened the space making it look larger.
"Styling makes all the difference," says selling agent Adrian Stroh. "It pays for itself 10 times over. Buyers are more likely to click on a styled listing, and spend longer looking at the property. With nothing to pay until after settlement, it's a no-brainer."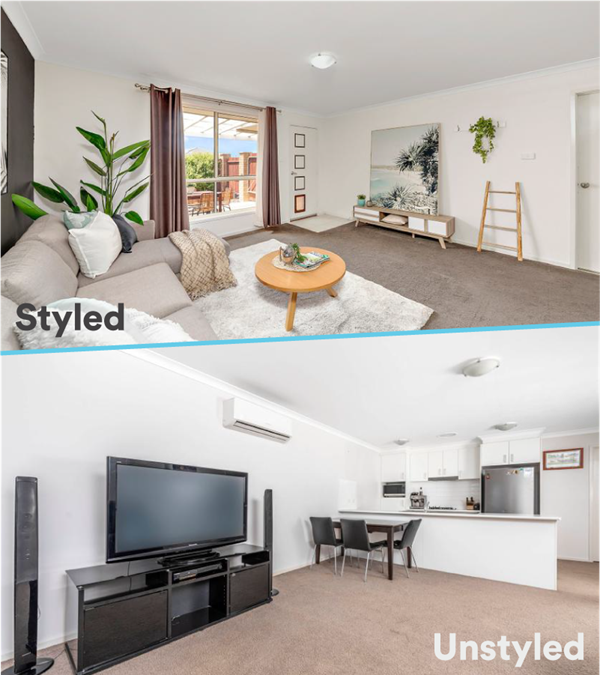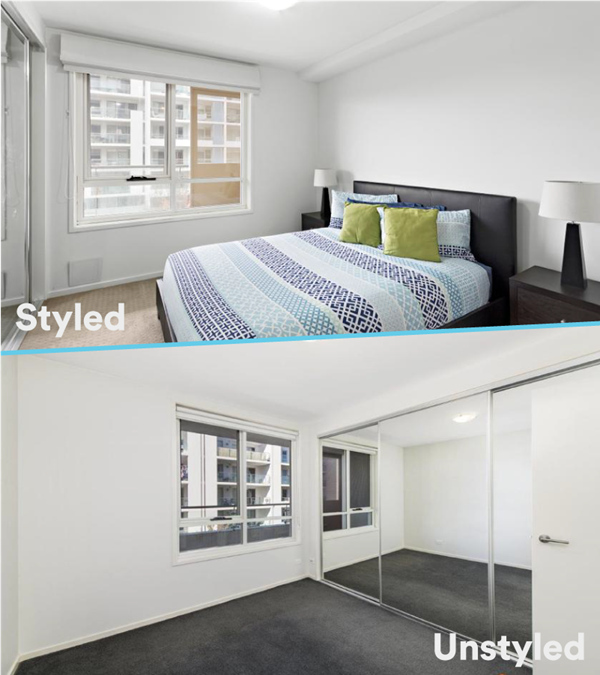 College St Belconnen
▸ Two 1-bed apartments in the same building
▸ Sold one day apart
▸ Furnishings fetched an extra $17,000
These two 1-bedroom apartments sold one day—and $17,000—apart. The difference? Professional styling.
Furnishing the apartment made it look more spacious, more comfortable, and more aspirational. The listing generated strong buyer interest, and the seller was able to achieve a price that was $17,000 higher than their competitor in the same building.
"Investing that little bit of extra money in professional styling and marketing services pays off every time," says selling agent Chris Uren. "I tell all my clients, you'll pay for it either way. If you don't spend the money to get your place looking nice, you'll see a drop in the sale price because buyers won't want to pay top dollar for something that looks shabby. Making that investment upfront pays off, often several times over."
Not quite ready to sell, but want to know more?
Here's some helpful information 
$25,000 in marketing, styling and trade costs.
Zero upfront costs.*
Want to list your property at its fullest potential?
Terms and Conditions
Offer available:​
From 10th January 2022 until 28th of February 2022​
For clients using the MarketNow financing product​
For properties within the Australian Capital Territory only​
For established residential properties only​
Client to have signed their 90-day exclusive agency agreement with Independent Property Group by 28th of February 2022
​Property can go live to market before, on or after 28th February 2022
Property marketing must include a minimum of two Allhomes print ad's​
Independent Property Group will rebate the MarketNow product service fee at property settlement. Up to $1,425. (5.7% of the total amount financed). No other fees or charges will be paid by Independent Property Group​
MarketNow financing product must be accepted in line with their terms and conditions by 28th February 2022
MarketNow is a financing product which advances clients funds to assist with the marketing, styling and trade costs to allow their clients to sell their property at its highest potential to achieve maximum sale price.
The amount advanced under the Market Now financing product will be required to be repaid by clients in accordance with the Market Now terms and conditions which will be supplied by your agent.​